Ticket to see Jimmy Baldwin & Jer Breaks Live at The Bunkhouse Sept. 28, 2018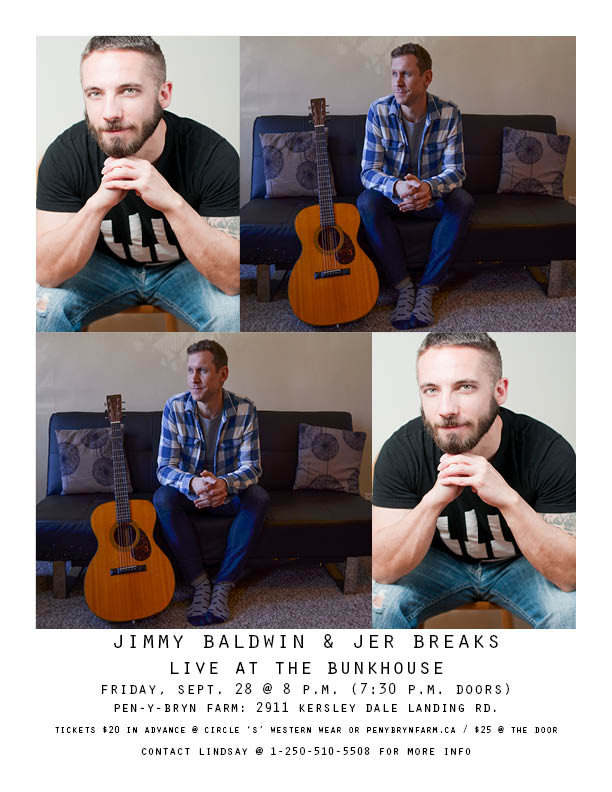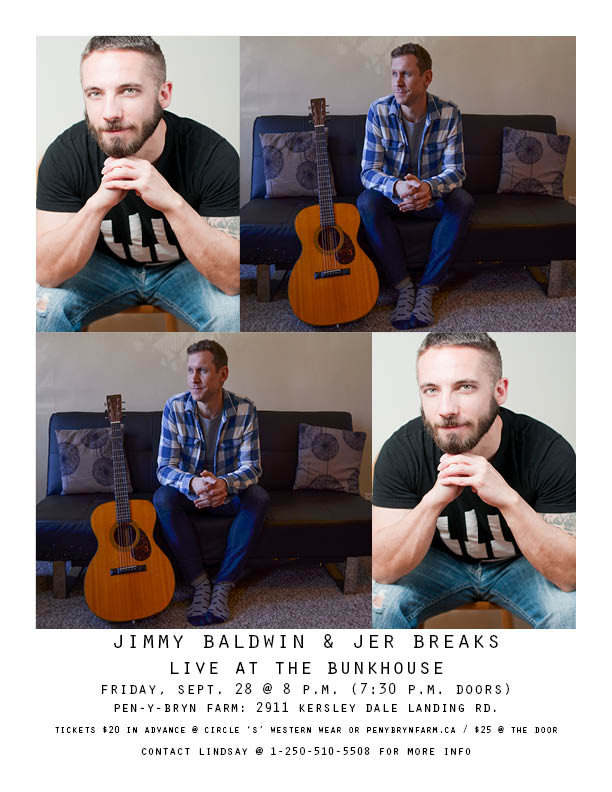 Ticket to see Jimmy Baldwin & Jer Breaks Live at The Bunkhouse Sept. 28, 2018
Jimmy Baldwin is coming back to The Bunkhouse, and this time, he's bringing his good friend, Jeremy (Jer) Breaks!
As a guitarist and songwriter, Jimmy Baldwin has created a style he calls "country-soul," which he describes as a funky, soulful hybrid of country-rock and R&B. Jimmy put on such a great show when he first came to Pen-Y-Bryn Farm in May, and we're so excited to have him back!
Jimmy's bringing another very talented Vancouver-based musician to the farm this time, his friend Jer Breaks. They're planning to each play a solo set and also share a few songs, and it should make for a pretty unforgettable night of great music, stories and laughs.
~What do you need to know about Jimmy Baldwin?~
There aren't many things in the world Jimmy Baldwin would rather do than grab one of his guitars and hit the stage in front of a bunch of smiling, singing faces. It's a good thing because as it seems, that's almost all he's been doing the last few years. Whether as leader of his own Jimmy Baldwin Band, co-founding member of 10-piece Afro-beat funk juggernaut Camaro 67, or as hot Tele-picker with Warner country artists the Washboard Union among many others, Jimmy is always playing.
Look for new Jimmy Baldwin music to be released in the coming year as well as lots of exciting performances with the various projects he is currently involved with.
~Who is Jeremy (Jer) Breaks?~
With a career that has spanned countless genres, singer-songwriter and multi-instrumentalist Jer Breaks's creative talents have touched many mediums. Originally from the frosty reaches of Northern B.C. and now residing in East Vancouver, Jer has dabbled in everything from thrash to alternative rock, folk to country, and everything in between. Breaks fronted his own indie bands and now works as a freelance guitarist and tours with Canadian country music superstar Dallas Smith. Jer now sets his sights on film and television. In just a short period of time, his commitment to crafting music that complements story has seen him shine on several music videos, short films and two feature films, including "The Doctor's Case" based on the short story by Stephen King.
We hope you can join us for this fun night!
Tickets are $20 in advance or $25 at the door. Doors open at 7:30 p.m., and the music starts at 8 p.m.
For more information, contact Lindsay at 1-250-510-5508.